A/Prof Smita Agarwal
MBBS, MS (Ophthalmology), Grad Dip in Refractive Surgery (USyd); FRANZCO
Ophthalmic Surgeon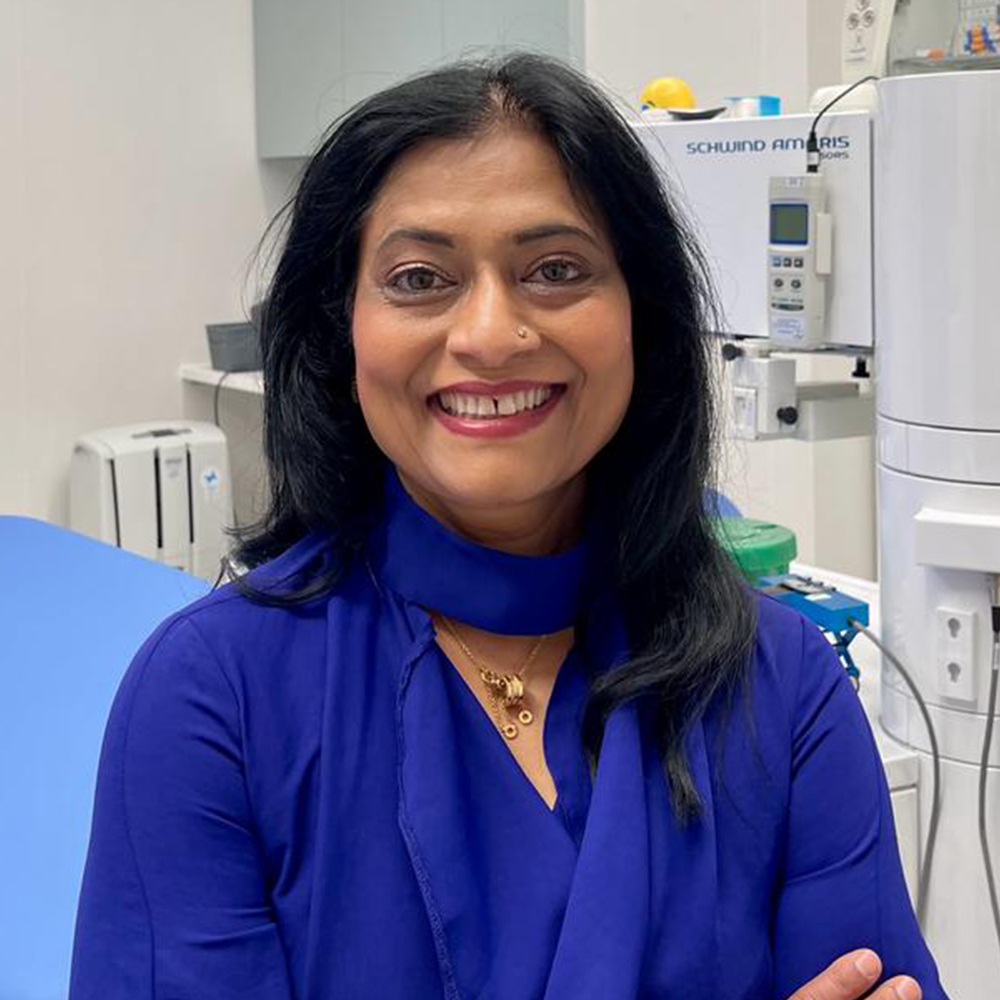 Clinical Associate Professor Smita Agarwal is a comprehensive ophthalmologist who specialises in refractive cataract surgery, glaucoma, and refractive surgery. She also has special interests in corneal cross-linking for progressive keratoconus, glaucoma and age-related macular degeneration. Based on the South Coast of NSW, she conducts clinics from her rooms in Wollongong, Nowra and Barrack Heights.
Dr. Agarwal is Head of the Ophthalmology Department at Shellharbour and Wollongong Public Hospitals.
Dr. Agarwal is a Clinical Associate Professor at the Graduate Medicine School, University of Wollongong, and lectures at the University of Sydney. She also teaches registrars and interns at public hospitals and regularly conducts continuing medical education seminars for doctors and optometrists. She has taught eye surgery including cataract surgery to ophthalmology registrars at Westmead Eye Hospital.
Dr. Agarwal has published research papers in peer-reviewed journals and has presented lectures in Australia and at International ophthalmology meetings and conferences. She has been an invited speaker at prestigious ophthalmology meetings and seminars nationally and internationally.
A/Prof Agarwal preforms all laser procedure including:
PRK

PRK is a fast and effective, touch free laser surgical procedure that can correct for short-sightedness, far-sightedness, and astigmatism. This procedure is most suited to people who are ineligible for LASIK or SMILE, due to a thin or irregular corneal surface because it maintains corneal integrity. Read more

LASIK (Laser Refractive Surgery)

LASIK is a precise surgical procedure which uses two different lasers to correct near sightedness, far sightedness and astigmatism. This common procedure, which aims to reduce dependency on glasses or contact lenses, has been performed over10 million times globally. Read more

SMILE (Small Incision Lenticule Extraction)

SMILE is a fast, accurate, keyhole procedure that aims to correct a high degree of short-sightedness and astigmatism. This minimally invasive laser procedure has been performed over one million times worldwide. Read more
Dr. Agarwal is well respected in the international field of ophthalmology. Her published work includes:
Age-related macular degeneration: essential pearls for routine practice, published in mivision, February 2018 issue 131.
Diabetic retinopathy and its complications, published in mivision, June 2017 issue 124.
Pneumatisation of the Intraorbital Optic Nerve Following Severe Head Trauma, published in the Journal of Ophthalmic and Plastic Surgery, November 2002 Vol 18 No.6.
Cell Response to Acrysof Intraocular lens in an Indian Population, published in the Journal of Cataract and Refractive Surgery, July 2002 Vol 28 No.7.
Postoperative Morganella Morganii Endophthalmitis following Subclinical Urinary Tract Infection, published in the Journal of Cataract and Refractive Surgery, May 2002 Vol 29 No.5.
Venlafaxine and Bilateral Acute Angle Closure Glaucoma, published in the Medical Journal of Australia, March 2002 Vol 176, Number 5.
Fate of Cellular Deposits on Acrysoft Implants, presented at ASCRS, Boston in June 2000 (presented by the Supervisor, Dr Abhay R Vasavada)
Dr. Agarwal regularly participates in conferences and has been an invited speaker at a number of events including:
Alcon sales meetings representatives (2017, 2018)
Glaukos meeting – MIGS (2018)
Wollongong Eye Specialists optometrists education evening, biannual event, (2011 – Current)
Wollongong and Nowra consulting rooms
South Coast medical forum, (2016, 2017)
Illawarra GP Association (2016)
AUSCRS NOOSA (2015)
Alcon Synergeyes Conference Sydney (2015)
Shoalhaven Medical Association South Coast NSW (2014)
Alcon ophthalmology registrars meeting, Sydney (2014)
Eye Advance Focus 2014 (20th Anniversary Congress) ITC Maratha, Hyatt Regency & Hilton Mumbai India (2014)